US fabless chipmaker Qualcomm is a major player in the tech industry and has a vital role to play as the industry transitions to the next-generation 5G technology. The company recently held its 2019 Analyst Day in New York City. During the event, Qualcomm president Cristiano Amon today unveiled a comprehensive visual roadmap for the global rollout of 5G networks. The visuals also included country-by-country assessments of readiness, including in developing countries.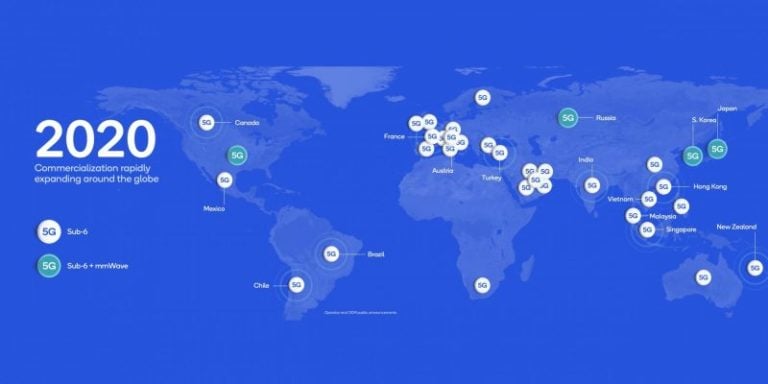 The Qualcomm exec says the company expects 5G to become broadly available in major metropolis next year. It is then expected to spread to developing countries in 2021. The visual roadmap shared by the exec shows the mid-band (sub-6GHz) variant of 5G is projected to spread far and wide during 2020. Countries expected to grace the initial rollouts include Canada, Mexico, Brazil, Chile, Austria, France, Turkey, India, Vietnam, Hong Kong, Singapore, and South Africa. Faster but shorter-distance millimetre wave 5G is expected to be deployed in Japan, South Korea, and Russia same 2020.
Furthermore, Qualcomm expects mid-band 5G to spread into Peru, Nigeria, 22 smaller European markets, and developing countries in Asia ranging from Cambodia to Sri Lanka starting in 2021. Millimetre-wave 5G is expected equally spread to Mexico, Brazil, Chile, Germany, Italy, Hong Kong, and Singapore at the same time.

In terms of its chipsets, Amon says 5G will become available in 2020 across its entire portfolio of products starting from its Snapdragon 6-, 7-, and 8-series chips "and beyond." Premium-tier smartphones will include 5G support "regardless of coverage" in a given market, with numerous OEMs helping to bring 5G technology to mid-tier devices. The company will also be integrating 5G to phones and PCs.
Credit: 
[To see links please register here]